Available October 1, 2023
The Driver's License for All law will allow Minnesotans to begin the process of getting a standard class D instruction permit or driver's license or a standard identification card. The law eliminates the need to show proof of legal presence in the United States to get a standard Minnesota class D driver's license, instruction permit or standard identification (ID) card.​
How to Get a Driver's License
✔ Study for the written exam and prepare your required documents
– Read the driver's manual
– Documents must be in English or translated with a certificate of translation form.
– Proof of legal presence is no longer needed after October 1, 2023
✔ Make an appointment online for your class D knowledge (written) test.
– Appointments are required to apply
✔ Attend your appointment and pass your written test.
– The written test is available in nine languages
– If you use. a third party proctor, you will need to visit DVS to complete the application to get a permit and take your photo for your permit.
– Receive a driving permit after passing the written test.
– A vision test is required after passing the written test and before a permit is issued.
✔ Practice driving for three to six months before a road test can be taken.
– Six months for ages 18 and younger; three months for ages 19 and older.
– Review the manual for permit restrictions.
✔ Make an appointment online to take the skills (road) test.
– Bring a vehicle in safe working condition with proof of insurance and your permit to your appointment.
– Insurance does not have to be in your name, but must be for the vehicle.
✔ After passing your road test, your photo will be taken before issuing your driver's license.
– A paper temporary driver's license will be given until the card arrives in the mail.
– Driver's license cards can take up to 6 weeks to arrive in the mail.
Driver's License Fees
Driver's Licenses
Class D – Regular or under age 21
$46.00
Class D – Regular or under age 21 (renewal)
$41.00
Provisional Driver's License
$32.50
Class D Provisional License Upgrade
to under age 21 driver's license
$37.50
Duplicate Driver's License – All classes
$26
Enhanced Driver's License
(in addition to applicable Driver's License card fee)
$15
Identification Cards
Under Age 65
$35.50
Under Age 65 (renewal)
$30.50
Age 65 and Older
$32.00
Age 65 and Older (renewal) Enhanced ID
$30.50
Age 65 and Older (renewal) REAL ID
$27.00
Physical Disability, Development Disability
or Qualified Mental Illness
$.50
Homeless Youth (no application fee is charged
– documentation required)
FREE
Enhanced Identification Card
(in addition to applicable Driver's License card fee)
$15
Permits & Endorsements
Class D Instruction Permit (valid for 2 years)
$29.50
Class D Instruction Permit (renewal)
(valid for 2 years)
$24.50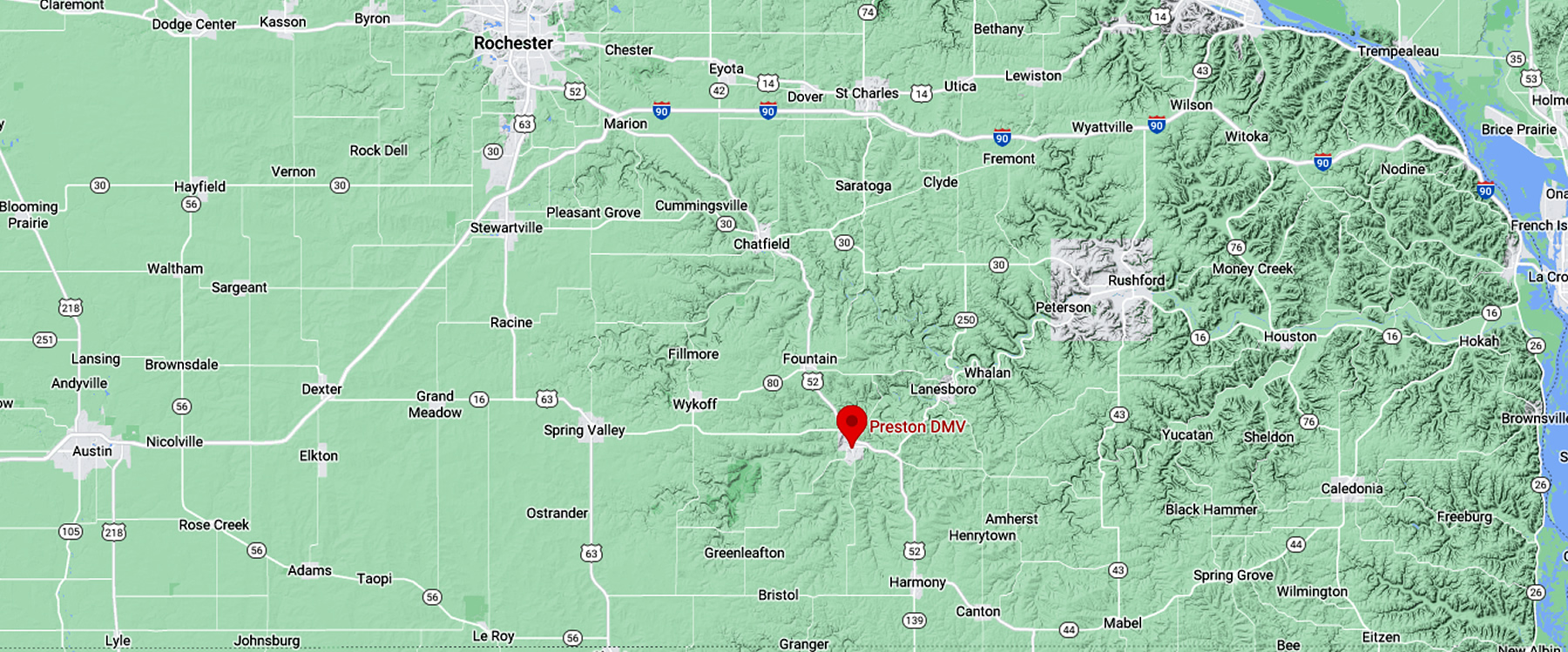 Driver's License Manual and Study Material
Preston DMV
Auto and Driver License Bureau
201 Fillmore Street
Preston, MN 55965
Open Monday-Friday from 8:30am – 5pm
Closed 12:00-1pm